Curriculum Overview
The curriculum is what children learn in school. Children in Blue Whale class follow the Early Years Foundation Stage 2 curriculum, please click here to find out more.
For children in years 1 to 6 the curriculum is based on a progression of skills, non-negotiables and cross curricular topics on a two year rolling cycle. The topics for this academic year are:
Tiger (Year 1) and Puffin (Year 2)


Fly me to the Moon

Towers, Tunnels and Turrets

Panda (Year 3) and Polar Bear (Year 4)


Victorians

Castaway

Zebra (Year 5) and Leopard (Year 6)


Take One Picture

Existing, Endangered and Extinct
Prior to each new topic a Brilliant Beginning task is given for completion as homework in the holiday and displayed in the classroom. A 'Sparkling Start' is used to engage and excite and a 'Fabulous Finis h' to culminate or reflect.Wherever possible we like to include many first hand experiences, whether this is through using our local environment or a trip further afield. We also invite visitors into school to support the children's understanding. Learning webs for each class can be found on each class page found in 'Our Classes'.
We use Chris Quigley 'Essentials' and the National Curriculum 2014 to plan the children's learning experiences which include:
English, Mathematics, Science, Computing, Art, Design Technology, Geography, History, Music, Religious Education and Personal, Social and Health Education (PSHE), Physical Education and modern Foreign Language.
Curricular Areas: English
Our English lessons are based on the National curriculum programmes of study and are subdivided into the following categories.
Phonics
Phonics is at the heart of learning to read and spell. It is about the sounds (phonemes) we make when we talk; we connect (blend) these sounds together when we read words, and split them up (segment) when we write.
All children are taught phonic skills through Letters and Sounds through dedicated phonics/spelling lessons for 20 minutes 5 times a week. These lessons have a specific focus either phonics for reading or phonics for writing. The input during these lessons are whole class so that all children have the opportunity to learn and be exposed to every sound. Children identified as falling behind will be picked up during afternoon intervention sessions taught by the class teacher. At first, the children learn the sounds and names of the letters of the alphabet; then they begin to blend sounds together to read small words, e.g. p-a-n. Later, more complex sounds (digraphs/trigraphs) are taught, e.g. aias in 'rain' and 'igh' as in 'high'.
As the children progress they learn the different digraph/trigraph patterns which make up the same sound, e.g. ea/ee/ey. This structured teaching enables children to acquire a thorough knowledge of letters, spelling patterns and words, and of the phonetic translation of all three. The acquisition of these skills support the children's development into fluent readers and writers. Once the children are secure within Phase 6 of Letters and Sounds they will progress to the school spelling scheme which will continue to develop their knowledge of sounds and words so they can become fluent readers and increasingly accurate spellers.
Spoken Language
We teach and encourage children to develop their skills in speaking clearly and confidently in front of others. The children are expected to be able to work well in groups so we cultivate their listening skills through paired discussion across the curriculum.
In Key Stage 1 we encourage the children to use clear language to express their feelings and ideas as well as developing their imaginative language for use in their writing. We teach the children how to work collaboratively in groups and the skills needed to listen carefully and actively.
Once the children move to Key Stage 2 we build on their existing skills to help them progress in their ability to speak in a range of contexts with increasing sense of audience.
Writing
At King William Street CE Primary School we want to make sure every child is not only skilled at writing but enjoys being creative too. We want our children to be excited about the effect that their writing will have on anyone who reads it.
The ability to produce fantastic writing depends on a sound understanding of basic skills and as a school we work hard to develop clear and well-formed handwriting, good spelling skills and a sound understanding of punctuation and grammar.
The writing curriculum across the school is broken down into units. These are often linked to each classes' topic and are based around a range of high quality stimuli including books, visits, video clips or experiences. Each unit focuses on one text type and usually lasts 2-3 weeks.
We celebrate the children's achievements in writing in many ways, including certificates presented during our celebration assemblies and displays on the walls around the school.
Key Unit Features:
Each unit begins with a cold task that is the text type the unit is focusing on however it is in a different context to the hot task. The task is completed independently and is marked against a focused criteria for that text type as well that year group's grammar objectives. The class teacher then uses this assessment to inform the planning for that unit. An overview sheet for each unit is stuck in each child's book.
Each hot task within a unit should have a clear purpose and audience which is shared with the children. The audience may not be a 'real' audience however the children need to understand who would read their writing for example, when writing a diary the audience would be that person or character.
Based on the assessments made, sentence level work focused on the year group's grammar objectives is planned to ensure the children can understand and use the skills correctly. A challenge task may be given.
Short writing opportunities
Within the unit, opportunities are planned for the children to use the grammar skills they have been taught within a piece of writing. This is often a text type that has been covered before but does not have to link with the text type of the hot task.
Approaches to support writing
Modelled write – A piece of writing that is prepared by the class teacher to demonstrate the features and skills required in the children's work.
Guided write – A piece of writing completed as a group with the adult scribing and using questioning to develop their writing choices.
Paired write – A piece of writing which the children complete in pairs to enable them to discuss their writing choices.
This is the completed at the end of the unit and should show the features and skills taught during the unit. This should show clear progression from the cold task as it is the same text type but a different context. Time should be given to edit and redraft this piece of work.
Proofreading should be an embedded skill which takes place at the end of each writing opportunity this is known as CUPS (capital letters, understanding, punctuation and spelling). A lesson focused on editing will also take place to allow the children to improve aspects of their writing such as word choice, grammar and sentence structure.
There is no expectation to redraft every hot task however it can be beneficial if linked to the purpose and audience of the piece.
We celebrate the children's achievements in writing in many ways, including certificates presented during our celebration assemblies and displays on the walls around the school.
Spelling
In years 2-6, there is a discrete spelling session using a progressive spelling scheme based upon objectives from the National Curriculum. This outlines the spelling patterns for each year group, the order they should be taught in and some suggested examples. Each spelling session focuses on one rule and will have an investigative approach and be drip fed across the week. In addition, each class will have non-negotiable spellings which have been identified from errors in books. These are displayed and children are expected to spell these correctly in all writing.
Reading
It is important that we develop in our children a lifelong enjoyment of books and reading. We build on the interests, personality and different levels of ability each child brings to school. All children are expected to read regularly at home, and the close partnership we have with our parents is vital to the process of learning to read. All classrooms have a class book corner which contains a variety of high quality text both fiction/non-fiction and authors. The children are read to from a class book on a daily basis which is chosen from the Pie Corbett Reading Spine books for that year group. Reading is taught and practised individually, or as a whole class and children are given access to a range of stimulating reading materials from their first days at school
At least four times a week, every child in each class takes part in whole class reading for approximately 30 minutes. The focus of each session is based on six key skills (VIPERS) which are vocabulary, inference, prediction, explain, retrieval and summarise or sequence for Key Stage One. The whole class read a text together and then in a mostly verbal way, the class have a discussion about the text with the teacher asking some key questions also. There is also an expectation that children complete at least one written activity a week during reading. This could be a set of questions focusing on one of the key skills that the children have to answer or it could be a writing opportunity that shows that the children have understood what they have read. During whole class reading, the children will have the opportunity to read a variety of texts including poetry, non-fiction, extracts and whole novels as well as being exposed to pictures and film clips to develop their comprehension.
In Key Stage one, whole class reading is carried out more flexibly with the class teacher carrying out a mix of individual sessions and whole class reading sessions. In year one, two sessions a week will be individual reading and two will be whole class reading. In year two this is less with the majority of sessions being whole class with only being one individual reading session a week when necessary.
In Key Stage two, whole class reading is completed at least four days a week , with the class teacher reading a mixture of novels, poetry, extracts and non-fiction texts with the children. Between units there is also the flexibility for class teachers to complete individual reading weeks so they have the opportunity to hear the children read to assess their fluency.
In school there are opportunities for children to enjoy reading independently, this could be during quiet/silent reading. To support this all children have at least one individual reading book either from the school's graded reading scheme or a book of their own choice if they are a free reader. This book can be a fictional book or non-fiction book. Children who are free readers may also bring a book of their own choice from home with the agreement of their teacher. Children can change their book once they have finished reading and they have shown a good understanding of the text. In some cases children may need to read the text more than once to gain a deeper understanding of what they have read. The reading books that the children read either in school or at home are part of a progressive reading scheme. The children are benchmarked, using PM Benchmark materials to assess accuracy, fluency and comprehension. If fluency, accuracy and comprehension have improved enough, the child moves through the progressive scheme. Once the child has reached the highest level of the reading scheme, the child is a free-reader and can choose a book they would like to read either from home or from their class's book corner.
In addition to reading aloud during whole class reading, staff read aloud to their class daily as well as an appropriate text to a different class every Friday.
We encourage children to read at home to an adult through our reading nights scheme and every summer we also encourage the children to take part in the Summer Reading Challenge in association with the local library.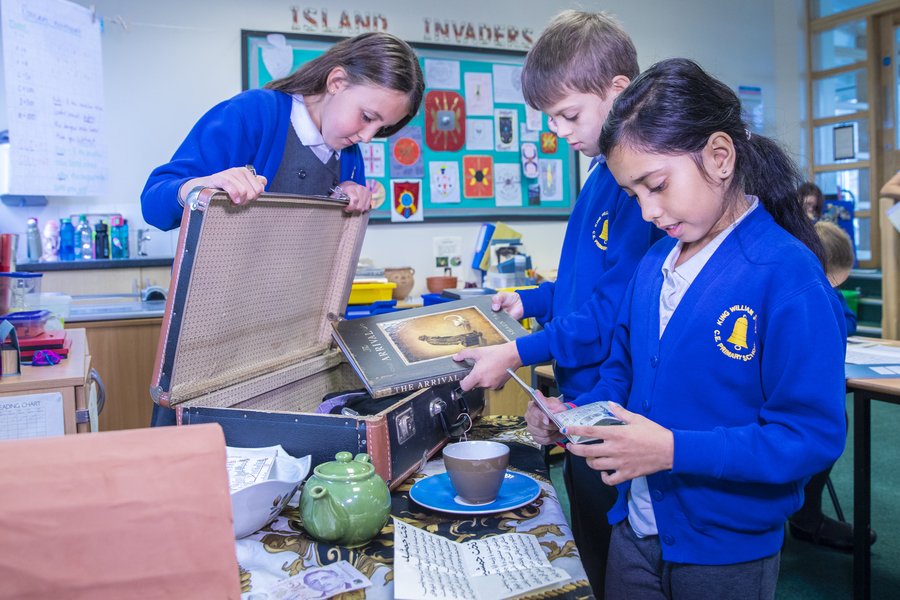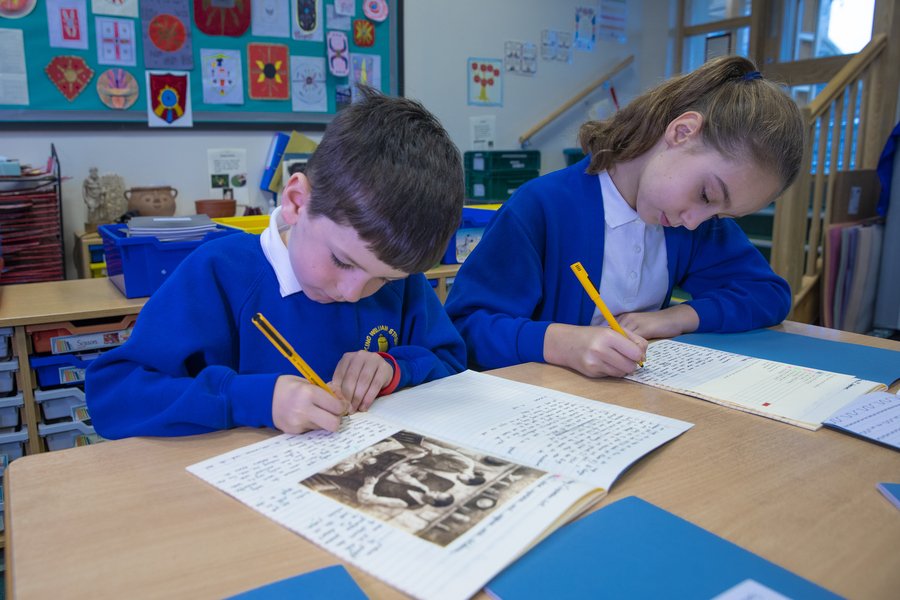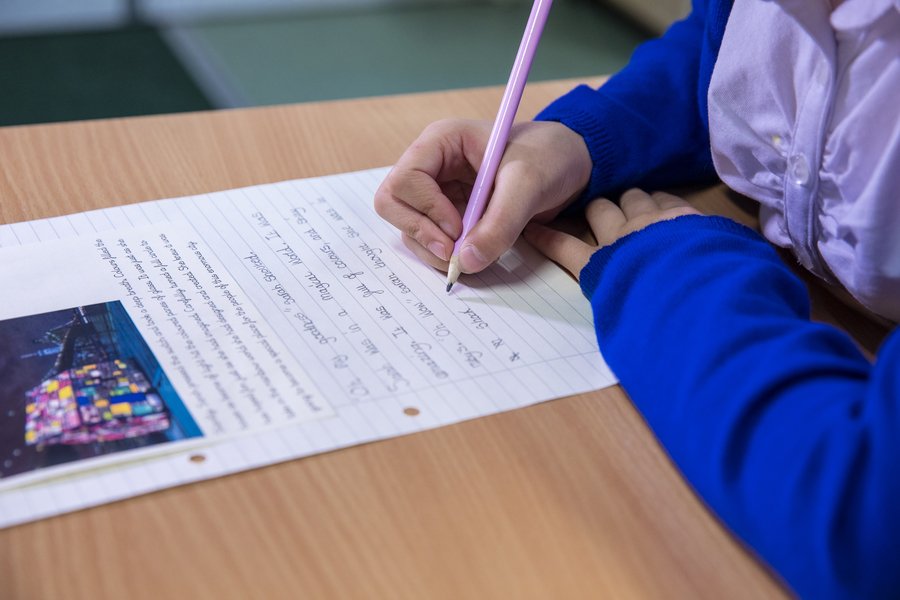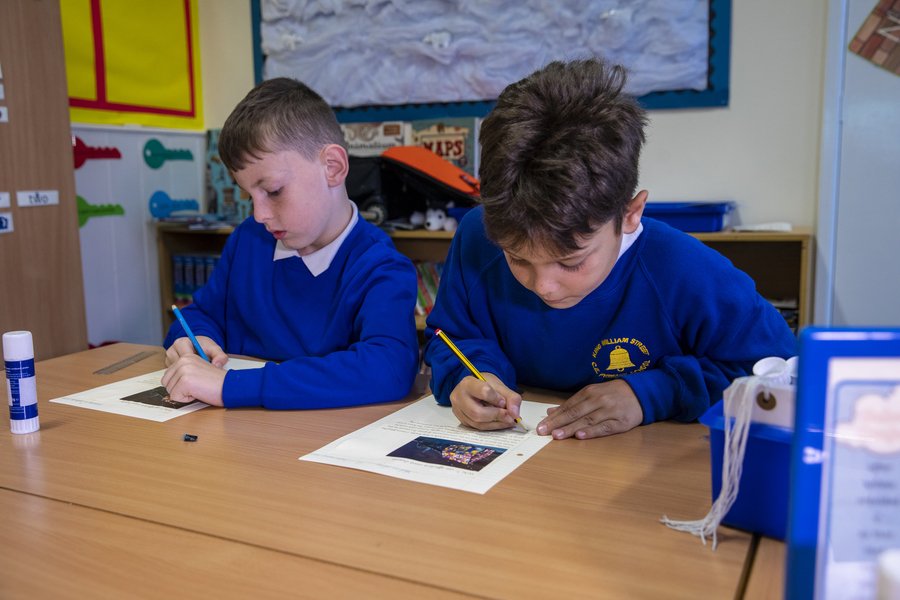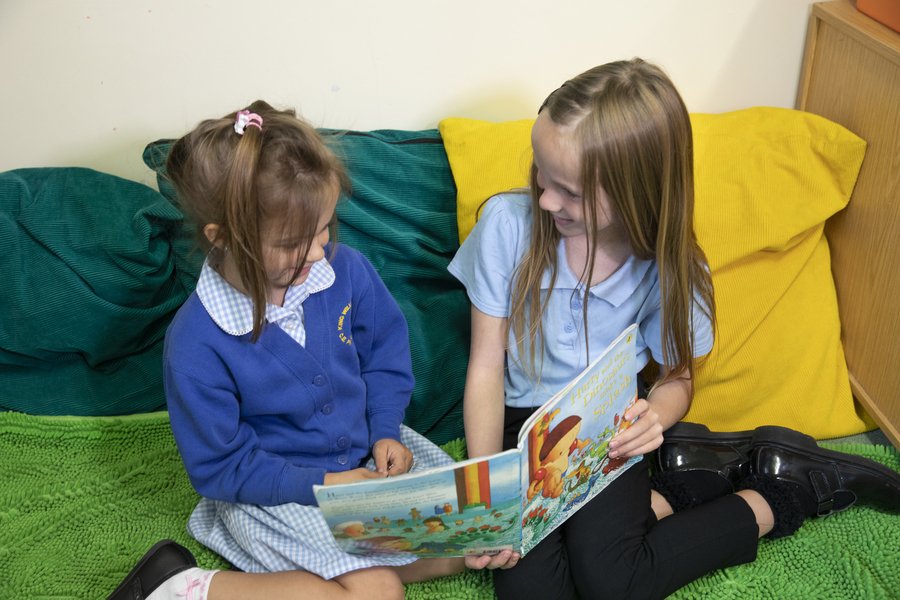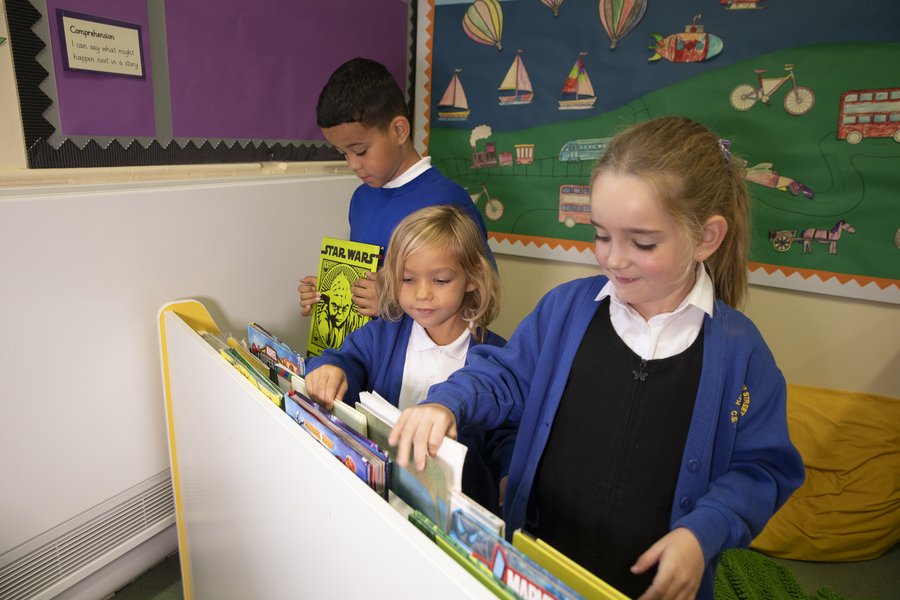 Mathematics
At King William Street CE Primary School we aim for all children to
develop fluency in the foundations

ensure mastery by embedding mathematical reasoning and problem solving

make rich connections across maths and other curriculum areas.
Our mathematics lessons are based on the National curriculum programmes of study and we use CanDo maths club to ensure small steps progression. Our DUO (Do It, Use It and Own It) approach is the vehicle through which we challenge all pupils within the expected year group of the curriculum.
These activities are designed to increase the children's fluency in maths. They are straight forward questions which include opportunities to address misconceptions or draw on prior learning.
These tasks involve problem solving. Problem solving skills, including word problems and empty box questions, are taught explicitly within maths lessons as well as within DUO activities. We use the 'Jedi maths skills' to teach children a range of problem solving approaches. We regularly teach whole class use it lessons where the children are presented with a range of problems and they need to identity which skill is needed to solve that problem. These problems come from the full breadth of the curriculum.
Pupils are challenged to reason and explore a problem at a deeper level. We challenge pupils through breadth and depth and not by increasing number size or accelerating through the curriculum. Pupils are challenged to think for themselves and justify their answers to questions. All pupils encounter challenge during the lesson. We use sentence stems to support responses. At least once a unit all children are given the opportunity to take part in a whole class own it lesson. This lesson is scaffolded so all children can achieve.
It is crucial that accurate mathematical language is modelled and developed throughout the lesson and that all pupils are expected to use it. In this way they can demonstrate their understanding and can minimise and challenge any misconceptions. Probing questions are evident throughout the lessons, with children responding in full sentences, sentence stems are displayed in every classroom to support this.
Based on Research by Pamela Leibeck, we develop children's understanding more if we ensure they make links between a practical experience (or context), the language to describe the experience, a model or image to capture the experience and symbols to generalise the experience. Therefore, we use practical resources (counters, tens and ones, numicon, etc) and models (bar model and images) as an integral part of maths learning to ensure connections are being made. This is across all year groups.
Every child counts daily (in standard increments, in decimals, in fractions) either at the start of a maths lesson or at some other point in the day. This counting should be relevant for year group expectations.
Every afternoon the whole class have an arithmetic lesson of about 20 minutes long. During this time the children take part in a teacher led activities to practice their termly foundation targets and times tables. Mental maths strategies are explicitly taught during these sessions.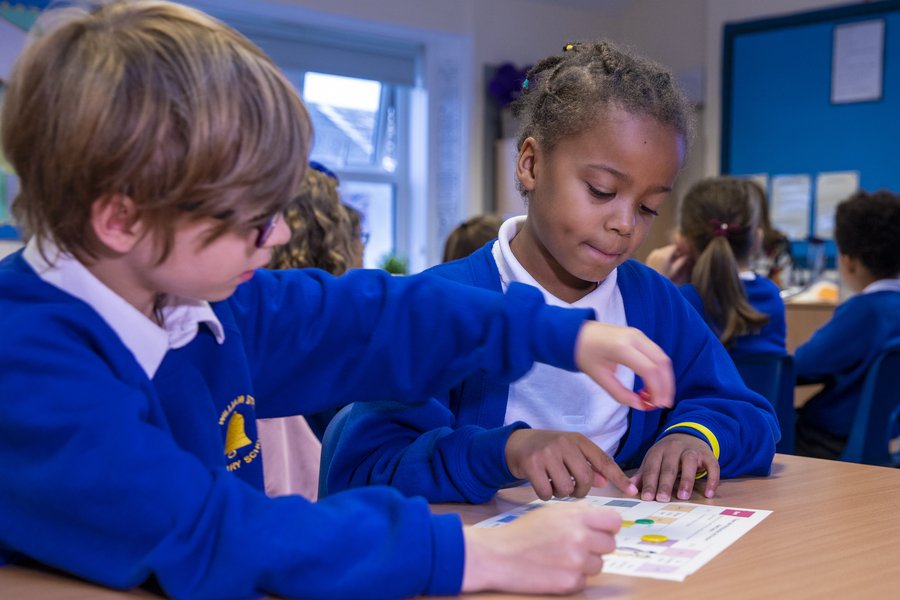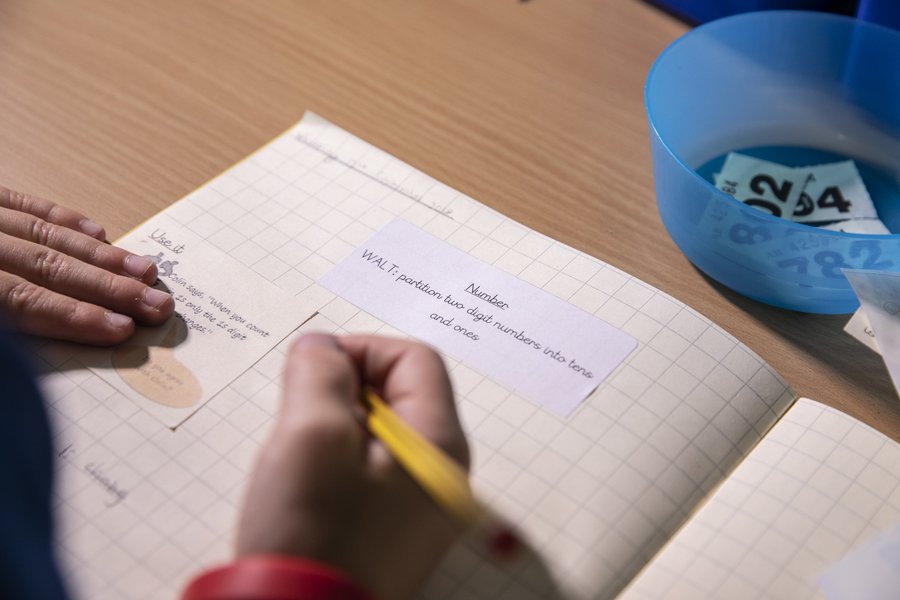 Science
Our Science curriculum is taught in blocks linked as far as possible to the topic that is being taught that term. Each element will be taught on a 2 year rolling programme.
Year 1 cycle
Year 1/2

Y3/4

Y5/6

Ingenious inventors

Seasonal changes taught throughout the year

Forces

Materials

Life in the freezer

Green plants

Animals and plants

Island invaders

Changes that form new materials

Materials and reversible changes

Let's explore

Sound (science week)

Tomb raiders

Light and sound (science week)

Take one picture

Electricity (science week)

Enchanted woodlands

Green plants

Habitats

Magnificent me

Human body

Myths, minotaurs and mortals

Light
Year 2 cycle
Year 1/2

Y3/4

Y5/6

All washed up

Seasonal changes taught throughout the year

Humans and animals

Our living planet

States of matter

Rocks

Reach for the sky

Forces

Towers, tunnels and turrets

Light (science week)

Victorians

Electricity (Science week)

Marvellous Mayans

Earth and beyond (science week)

Fly me to the moon

Space

Sunrise and sunset (part of seasonal change)

Castaway

Forces

Existing, endangered, extinct

Animals including humans

Classification
During each block there will be an emphasis on working scientifically using one of the different types of scientific enquiry:
Observation over time

Identify/classify

Pattern seeking

Research

Fair testing
The knowledge taught relates to the key national curriculum areas of Life Processes and Living Things, Materials and their Properties and Physical Processes.
Accurate scientific language is modelled and developed throughout the lesson and that all pupils are expected to use it. In this way they can demonstrate their understanding and we can minimise and challenge any misconceptions. Probing questions are evident throughout the lesson, with children responding in full sentences.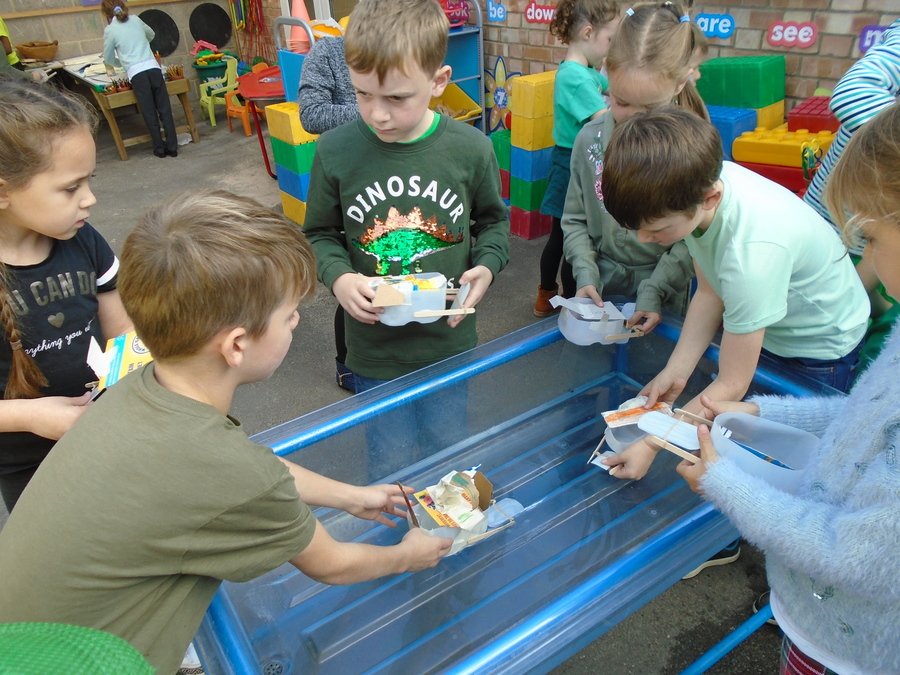 Religious Education
King William Street CE Primary School use Discovery RE and Understanding Christianity as the scheme of learning throughout the school which adopts an enquiry-based approach to teaching and learning. Through this approach children learn not only knowledge but also develop an understanding of the world of religion and how beliefs impact on daily lives. Christianity is taught in every year group whilst Hinduism, Islam, Judaism and Sikhism are also covered.
At King William Street CE Primary school, RE forges important links within our local community. Local clergy from the Old Town community of churches lead our assembly every Thursday. We value the opportunity of bringing learning to life by visiting local places of worship. We also have strong links to Christ Church where the whole school celebrates the Christian festivals of Harvest, Christmas and Easter. Children have also benefited from visiting places of worship from other faith such as a Sikh temple and a mosque.
As a Church of England Primary School we follow a set of jointly held Christian based values that help us to grow and develop. Although we see these values as Christian values, we strongly feel that they are values all children need to learn about and develop in order to become productive, successful and caring members of society.
For an overview of the RE to be taught during the year 2019-20 please click here
The values for the year 2018-19 were Friendship, Trust and Courage
The values for 2019-20 are Respect, Truth and Compassion.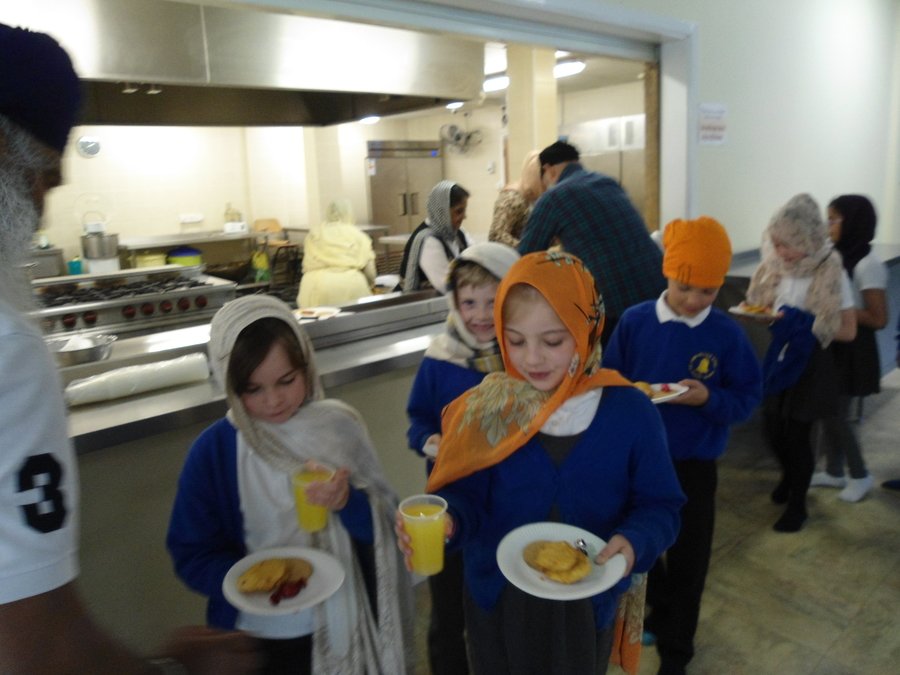 Physical Education
We believe that Physical Education should lead to a sense of well-being, a greater understanding of health and fitness, a healthy lifestyle, a feeling of self-confidence and a lifelong passion for physical activity. Every child will experience a varied physical education programme which involves dance, gymnastics, games, outdoor and adventurous activities, athletics and swimming throughout their school life. We aim to provide two hours of high quality physical education throughout the week, which involves outdoor games skills as well as indoor gymnastics or dance. Children in year 1 and year 5 swim during term 6.
Children are encouraged to become actively involved in extracurricular sports clubs and represent the school in a range of tournaments and festivals. This year King William Street will participate in the following competitive events:
Swindon Primary Schools Football League.
Swindon Small Schools Football Competition.
Swindon Primary Schools Gymnastics Competition
Swindon primary Schools Tag Rugby Competition for years 3 and 4 and years 5 and 6
Swindon Primary Schools Quadkids Competition in June/July.
For more information about our Sports opportunities see the Sports Funding page.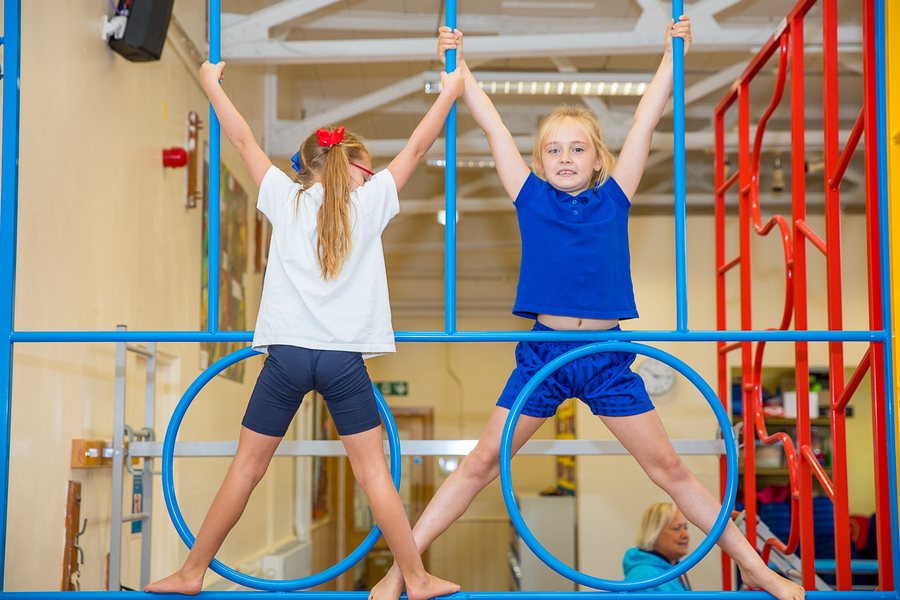 History, Geography, DT and Art and Design
Chris Quigley 'Essentials Curriculum' provides the base for developing learning in these subject areas and includes:
Essential Characteristics which are the characteristics required to be successful and to achieve within each subject.
Essential Opportunities which lists the content of what we teach.
Essential Learning Objective which identifies and defines the learning objectives which are essential to support a culture of deep learning for all our children.
Essentials for Progress which lists the milestones within the curriculum which will enable us to measure progress. Children are expected to reach milestone 1 by the end of Year 2, milestone 2 by the end of Year 4 and milestone 3 by the end of Year 6. The milestones use the National Curriculum as a reference point but in most subjects are far more ambitious supporting our high expectations and opportunities for challenge.
PSHE
King William Street CE Primary School use Jigsaw PSHE as the scheme of learning as it brings together PSHE Education, emotional literacy, social skills and spiritual development to form a cohesive picture, helping children to know and value who they are and understand how they relate to other people the world. Divided into Puzzles, each year group working on the same theme (Puzzle) at the same time. The 6 puzzles are:
| | | |
| --- | --- | --- |
| Autumn 1 | Being Me in My World | includes understanding my place in the class, school and global community as well as devising learning charters |
| Autumn 2 | Celebrating Difference | Includes anti-bullying (cyber and homophobic bullying included) and diversity work |
| Spring 1 | Dream and Goals | Includes goal-setting, aspirations, working together to design and organise fundraising events |
| Spring 2 | Healthy Me | Includes drugs and alcohol education, self-esteem and confidence as well as healthy lifestyles |
| Summer 1 | Relationships | Includes understanding friendship, family and other relationships, and conflict resolution and communication skills. |
| Summer 2 | Changing Me | Includes Sex and Relationship Education in the context of looking at change. |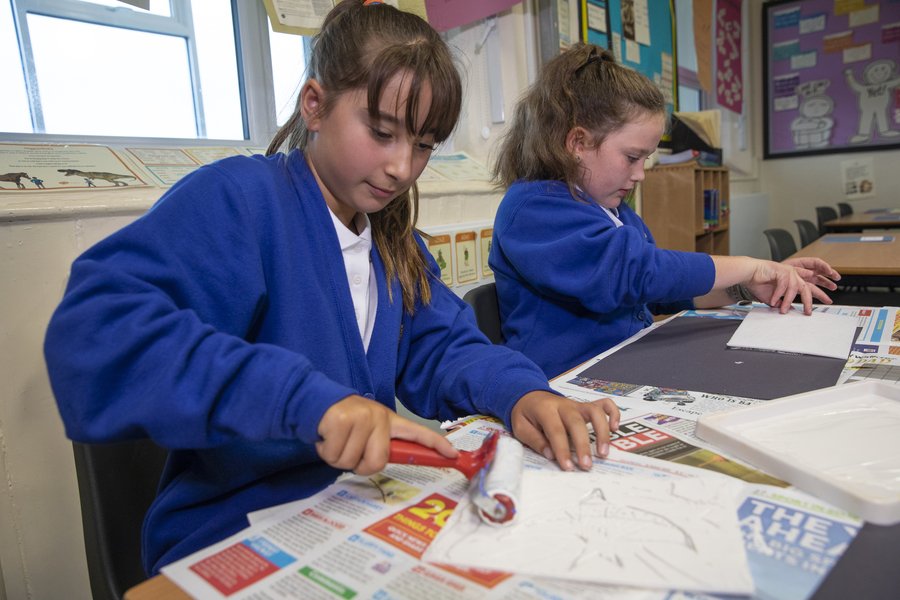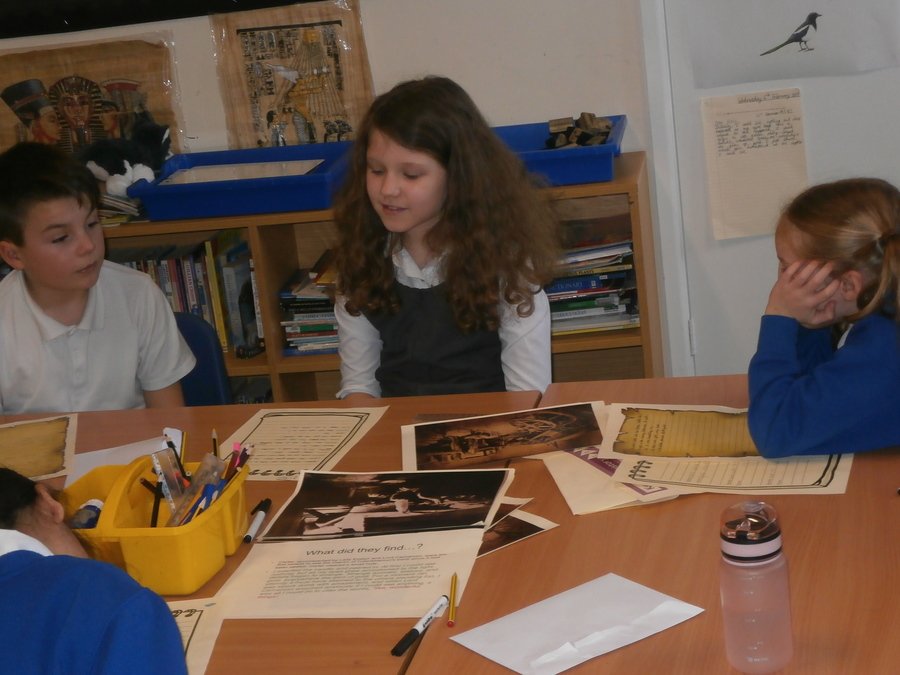 Modern Foreign Language
Across King William Street, Spanish is the language taught to all children. Purple Mash provides the scheme of work for years 3-6 and complements the requirement of the 2014 National Curriculum.